Company Profile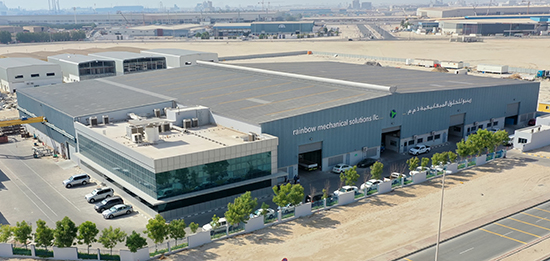 Rainbow Mechanical Solutions LLC, a wholly owned subsidiary of Trinity Holdings, was established in 1991, in Abu Dhabi, to cater to the increasing demand for specialized services in the region. The company is certified to ISO 9001, 14001, 45001 and API 5CT & 7-1 monogram to offer standardized services for diverse industry sectors worldwide that include oil & gas, marine, dredging, crusher, power generation, automotive and construction.
Rainbow boasts a highly experienced staff of engineers and skilled technicians to carry out repair, fabrication, manufacturing, assembly and testing of a range of mechanical components. Rainbow believes in continuous improvement, quality, hard work and dedication to meet and exceed customer expectations.
Equipped with a range of advanced and heavy-duty machines, Rainbow carries out the machining, manufacturing and reconditioning requirements of its customers. To complement the machining section, a coatings division has been formed to provide specialized coatings that enhance mechanical properties such as wear, temperature & corrosion resistance of the components. The thermal coating processes that are carried out include HVOF, Plasma and Twin Wire Arc spray. Rainbow is also licensed by Praxair to provide SermeTel® and SermaLon® coatings on industrial gas turbines and compressors.
As a part of a large engineering conglomerate, Rainbow is able to offer diverse range of services such as castings, electro plating, phosphating and heat treatment through its sister concerns. Over the years, Rainbow has earned the trust and loyalty of its customers by providing unparalleled services, establishing itself as one of the premier engineering firms in the Middle East.